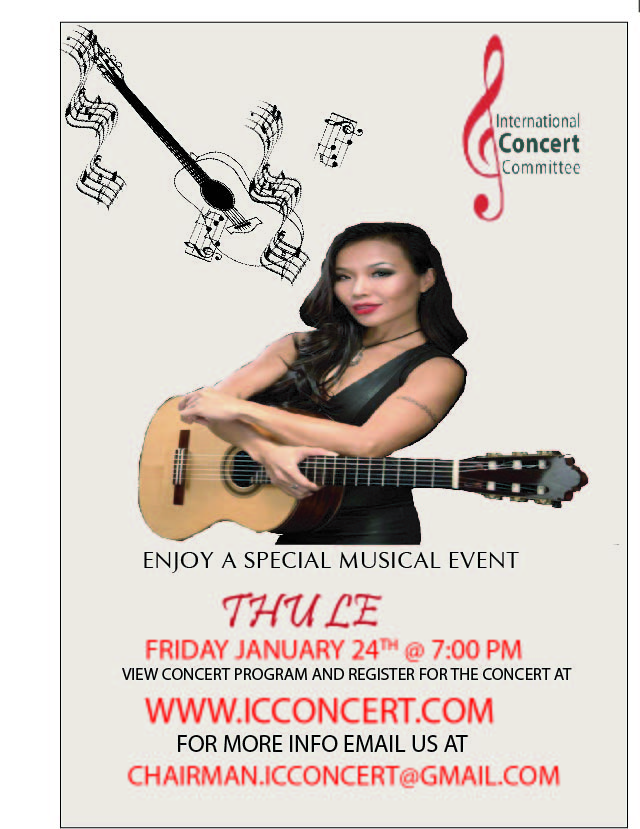 Thu Le is an International award winning classical guitarist and one of the world's leading female proponents of her art. The Hanoi born guitarist is currently living in Bahrain.
She brings to her mesmerizing performances a unique blend of passion, colour and personality which perfectly complements her undoubted musicality and technical prowess.
Thu Le's love affair with the guitar began at the age of four thanks to her father, Le Hanh. At the age of five she gave her first public performance in Vietnam under his tutorship.
Thereafter, her relationship with her guitar blossomed and her journey continued at a relentless pace. She passed the entrance examination for the National Conservatory of Music, Hanoi at the age of only seven, making her the youngest ever student to be admitted to this prestigious establishment. Her teachers included Nguyen Hai Thoai, Vu Bao Lam, Nguyen Nhu Dung and Nguyen Quoc Vuong.
To further enhance and develop her talent, she took master classes with world renowned guitarists such as Manuel Barrueco, Nikita Koshkin, Hubert Kaeppel, Pavel Steidle, Thomas Offermann, Denis Azabagic, and Judicael Perroy.
Thu Le's passion for guitar has seen her perform in many countries including Italy, France, England, Austria, Germany, Spain, Bulgaria, Romania, Vietnam, Thailand, Malaysia, India, Nepal, Turkey, USA, Saudi Arabia, Bahrain, Korea and China.
Teaching experience:
National Conservatory of Music, Hanoi, 2002 to 2004
Yamaha Music Foundation, Hanoi, 2002 to 2009.
Bridge Music Academy, New Delhi, Head of Guitar Department, 2010 to 2012
Institute of Music Dynamics, Gurgaon, New Delhi, 2011 to 2014
Certificate of Excellence' in music teaching from Trinity College London, 2013
Saudi Arabia and Bahrain, 2014 to present
Concert Program
Serenata Espanola (Joaquin Malats)
Recuerdos de la Alhambra (Francisco Tarrega)
Caprichio Arabe (Francisco Tarrega)
Introduction y Rondo in A minor Op2 no2 (Dionisio Aguado)
Xuân này con không về ( I am not coming home this spring, Vietnamese song, arranged for guitar Thu Le
Vals for Atom (Laurent Boutros)
Yuksek yuksek Tepelere ( Turkish traditional song, arranged for guitar Reentko Dirks)
El Choclo (Angel Villoldo, arr. Roland Dyens)
Historia de un amor (Carlos Almaran, arr. Thu Le)
3 daqat (Arabic song, arr. Thu Le)
Felicidade ( Antonio Jobim, arr. Roland Dyens)
Cavalcade (Mathias Duplessy)